Expect the Best from Professional Hardwood Floor Installation & Repair
Once you have finalized to install hardwood floors in your home or commercial space, you might be wondering about what to do at the next step in the process! When you are considering hardwood floors for your home's addition project or for replacing the existing floors in your house, there is a good chance that you have heard about Majestic Hardwood Floors. Awareness with the anticipated process of installation makes you feel more confident. It will help you get suitable materials and installation and understand how to care for your new hardwood floors properly. Here are a few things you can expect from our hardwood floor installation process:
Initial Preparation
You can take comfort knowing that there are a wide variety of styles and colors available for hardwood floors. If you are concerned about a specific style, color, and design options for hardwood floors, keep in mind that Majestic Hardwood Floors offer just as many hardwood flooring irrespective of shades and quality as they do for standard hardwood flooring!
So you have decided to place the order on our hardwood floor installation team for your flooring project. You also complete the initial preparation by removing all furnishings, paintings, draperies, and all other items from the room. Now it is time for our team to bring the hardwood floor shipment delivered to your space. We book the shipment with the carrier that is best suited to your needs. Once your order has shipped to your designated address, you will receive the confirmation and your bill of lading copy from our shipping department.
Overall Design
The overall design, color, and type of hardwood floor bring a positive impact on the home interior. We help you choose the design that you're going for, and narrow down your options for what stain would work best. We also help you customize your flooring in the way you want it to look.
During the Installation
Now we make estimates to give you an idea of how much time you have to prepare your room for installation.When we do the hardwood floor installation or repair, we let you inform you to be prepared for some disruption and disturbances in your space. Perhaps you have removed all of your furniture and other items from the room. Still, we advise you to cover up them. Also, remove furniture in nearby places in the case to stay away from debris and dust. Be alert to keep off of the floors if the finish is being applied to your hardwood floors until they are adequately gripped and dried. This time may depend upon the type of finish and the nature of the stain you select to be used. So, check with our hardwood floor installation and refinishing team in Charlotte, NC, if you have any specific questions!
Another benefit to call our hardwood floor installation in Charlotte, NC, for your home is that we can bring the ultimate smoothness to your flooring. This is because the flooring material we provide is made with a system that locks together with a tight seam. It creates a smooth and aesthetically pleasing appearance regardless of the size of the room where it is installed. It never has a shrinking tendency, or it expands as standard hardwood floors, and you also won't find any visible seams and cracks over it in the future!
After the installation
Once the hardwood floor installation has been finished, and the floor is dried, you can place your furniture back into the room. However, we advise using felt pads on the bottom of all furniture items to minimize dents and scratches. You should also use rugs at all of the entrances, but avoid rugs with rubber backs. It can discolor the floor and even damage it in some cases. Note that you will find many variations in hardwood flooring material, and all the hardwood flooring materials are not identical.
Years after the installation
Proper hardwood floor installation is the big step that keeps your home looking new for years. It will even be looking stunning with appropriate maintenance at the right interval! Using the best hardwood floor cleaning agent is the best way to achieve it. You can sweep your home with soft bristle broom or dust with a dry microfiber mop.
Now that you are a little bit familiar with the process of hardwood floor installation! Check out our hardwood floor installation and refinishing service in Charlotte to find the perfect hardwood floor for your home or commercial space! We truly look forward to doing business with you!
Recommended Posts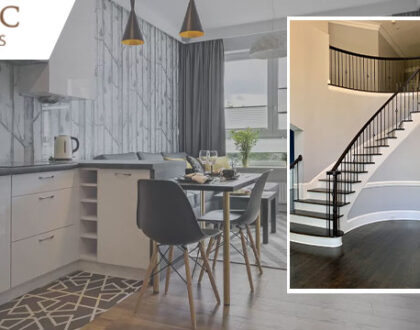 September 5, 2023