What Is Waterproof Flooring and What Are Its Advantages?
When it comes to selecting flooring for your new home, you may prioritize factors such as style, durability, and elegance. However, one crucial aspect that should not be overlooked is waterproof quality. Flooring materials are susceptible to wear, tear, and water damage, which are common issues in any household. Therefore, it is important to choose waterproof flooring that offers complete protection against water and possesses the ability to dry quickly in all seasons. Additionally, proper installation is essential to ensure a visually appealing and long-lasting floor. You can rely on the expertise of flooring installation Charlotte NC-based contractors who specialize in residential and commercial projects.
You can read more at, What Are the Benefits from Floor Sanding and Refinishing
For purchasing and installing waterproof flooring, it is advisable to choose the best wood flooring company in Charlotte, NC. These companies employ licensed contractors who possess extensive experience in the installation of waterproof flooring materials for various properties. They guarantee a high-quality finish, durability, and cost-effective maintenance for your flooring needs in the city. To ensure quality workmanship and affordable pricing, it is recommended to engage the services of licensed flooring contractors in Charlotte, NC.
What is Waterproof Flooring?
As the name implies, waterproof flooring refers to flooring materials that are resistant to water and moisture absorption. Most waterproof flooring options are made of vinyl plank material, which repels water. Additionally, you can find waterproof flooring composed of material combinations such as wood-plastic and stone-wood plastic.
Why Choose Waterproof Flooring?
Excessive moisture can severely damage wooden floors and create an environment for the growth of bacteria and fungi. By installing waterproof flooring, you can prevent these issues as it effectively resists water penetration. Waterproof flooring does not absorb moisture and can be easily wiped dry. Its moisture-resistant properties make it an excellent choice for areas in the house such as kitchens, bathrooms, gardens, and both indoor and outdoor spaces. Waterproof flooring is also suitable for commercial and industrial settings.
Benefits of Waterproof Flooring
There are several significant benefits to using waterproof flooring:
Excellent water resistance: Waterproof flooring is ideal for residential, office, and commercial spaces due to its ability to withstand moisture.
Easy to clean and maintain: This type of flooring is easy to clean and requires minimal maintenance.
Longevity: Waterproof flooring offers exceptional durability, often lasting up to 20 years or more.
Stylish options: You can choose from a wide range of vibrant styles and designs to match your preferences.
Material combinations: Waterproof flooring is available in various material combinations such as wood-plastic, wood-stone, and wood-vinyl.
Promotes hygiene: By reducing moisture, waterproof flooring helps prevent the growth of bacteria and fungi, particularly in kitchens and bathrooms.
Slip resistance: Waterproof flooring decreases the risk of a slippery floor by repelling water.
Cost-effective: The price range for waterproof flooring is reasonable, making it an affordable option for residential and commercial properties.
In conclusion, opting for waterproof flooring offers numerous benefits for your home. To ensure proper installation, it is advisable to contact reputable flooring installation companies in Charlotte, NC. Majestic Hardwood Floors is a leading provider of flooring services in the area and can assist you in achieving the best results.
Also read about, 3 Things to Know about Majestic Hardwood Flooring Installation
REFERENCE URL: https://bit.ly/3QcRqMo
Recommended Posts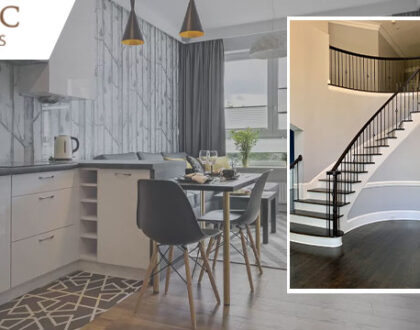 September 5, 2023
October 15, 2022